The River Forest Civic Association
and
The River Forest Park District
are proud to present the
2019 River Forest Memorial Day Parade
May 27, 2019 at 9:30 am
---
Civic Association Links
Home     Veterans     Facebook     Officers     Meetings     Membership
Parade Links
2019 Parade         2019 Parade FAQ     2019 Sponsorship/Entrance Form     2019 Honorees     Past Honorees Pics, Honorees & Sponsors of Past Parades
---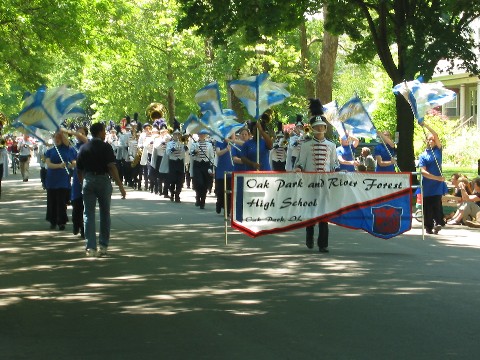 This year's Grand Marshal is Robert F. Berg, United States Navy.

The purpose of the River Forest Memorial Day Parade is "To recognize and honor the men and women who are serving or who have served in the armed forces of the United States of America, and especially those who gave their lives in serving."

The annual Memorial Day Parade is the foremost community-wide celebration in River Forest. Each year more than one hundred businesses, community and civic groups participate in the parade, which draws thousands of viewers from River Forest and surrounding villages. Grand Marshals in past years have included officers from Great Lakes, including admirals, a World War II ace fighter pilot, and other dignitaries.

For many years the parade has featured a Riderless Horse to honor our country's fallen heroes. There have been as many as eight musical groups in a single parade. Past parades have included the Great Lakes Naval Center Marching Band, drum and bugle corps, calliope, and local area high school marching bands. Additional participants have included Civil War re-enactors, numerous floats, Model 'A\rsquo; Fords, antique military vehicles, the National Flag Truck, clowns, neighborhood groups, scout troops, politicians, local businesses, and of course, fire trucks.

The community gathering in Keystone Park following the parade begins with a special ceremony featuring comments from the Grand Marshal, and the honoring of local veterans. Afterwards, members of the River Forest Civic Association serve over 2000 free hot dogs to ceremony attendees.

The parade steps off at 9:30am from Division Street and Ashland Avenue
proceeding south on Ashland Avenue to Lake Street, then
west on Lake Street to Keystone Park.



Post parade celebration at Keystone Park will include:
   + Ceremony honoring several armed forces veterans from River Forest
   + Picnic





WANTED !!              WANTED !!
Information on any River Forest residents who:
    • are on active military duty for our country, or
    • are a veteran of our country's armed forces.

Contact a member of the Civic Association to have them honored by our community in future Memorial Day ceremonies.



---