2010
The River Forest Service Club
honors River Forest residents
who have served our country in the armed forces.
---
Service Club Links
Home     Officers     Meetings     Membership

Parade Links
Current Parade     Pics, Honorees & Sponsors of Past Parades
2010 Parade Sponsors         2010 Sponsorship Levels         2010 honorees
---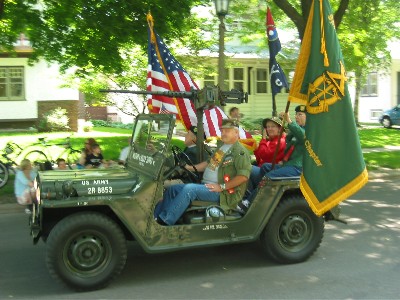 During the 2010 Memorial Day ceremonies, The River Forest Service Club planned to honor several River Forest residents. Due to rain, the ceremonies were cancelled and these individuals were honored "in spirit".


Honoring River Forest Residents for Past Military Duty:

David Hanson
1962-1968 US Army; 724th Transportation Company

George Parry
Korean War: 101st Airborne Division;
9901 Hdq. Detachment

Lt. Colonel Wayne Toberman, USA
Hdq Commanding Officer, Southern Command,
Operation "Just Cause" Panama 1st Armed Div,
Operation "Joint Endeavor" Bosnia

Richard George Zilligen
Korean War: Battery A, 269th Field Artillery Bn, Ft. Carson, C0



Honoring River Forest Residents on Active Military Duty:

Lt. Colonel Thomas S. Wieczorek, USA
Stationed Pentagon;
(Son of Don & Joy Wieczorek)

Lt. Colonel Sherry L. Toberman, USA
330th Medical Brigade

CDR. Christopher J. Hanson, USN
Virginia Class Submarine Project Officer, Supervisor of Shipbuilding, Conversion and Repair;
Graduate of US Naval Academy-1993;
(Son of Dave & Nancy Hanson)

Lt. Colonel Edward L. Jeep, USMC
Stationed Pentagon;
(Son of Jerry & Liz Jeep)

Major Margaret C. Martin, USAF
(Daughter of Frank & Buff Martin)

2nd Lt. Matt Hanson, USMC
(Son of Kenneth & Eleanor Hanson)

2nd Lt. Chris McCole, USA
Basic Officer Leadership School, Ft. Benning, GA;
(Son of Kevin & Jane McCole)

2nd Lt. Jim Gullo, USAF
Medical School;
(Son of Gregory & Helen Gullo)

Lt. JG Trevor Skelly, USN
Naval Intelligence 7th Fleet, Yokosuka, Japan
(Son of Mike & Sue Skelly)

Staff Sergeant David J. Erfort, Jr., USA
Helicopter Mechanic: Speicher Airfield, Tikirt, Iraq;
(Son of David & Bridget Erfort)

Staff Sergeant Scott Dinse, USA
101st Airborne completed 2nd tour in Afghanistan;
(Nephew of Jim & Lynn Winikates)

Corporal Mark A. Brownlow, USA Reserves
(Husband of Lynn R. Brownlow)

Corporal Lee S. Atkins, USA
Illinois National Guard, Bravo Co 1/178, 33rd Battalion
(Son of Mary Lou Stewart and Marc Atkins)

Cory Elich, US Military Academy Cadet 1st Class
(Son of Bill & Nancy Elich)

Robert Barnhisel, US Naval Academy Midshipman 3rd Class
(Son of William & Donna Barnhisel)

Peter C. Toberman, US Military Academy Cadet 3rd Class
(Son of Wayne & Sherry Toberman)

Kevin Williams, US Naval Academy Midshipman 3rd Class

Clayton Young, US Naval Academy Midshipman 3rd Class
(Son of Jim & Mary Ellen Young)



Thomas Cusack, Jr.
For 50th years of Chairing RF Memorial Day Parades.

George A. Gregg
For Exceptional RF Memorial Day Parade Fundraising (over $160,000).

Gregory W. Kramer
For over 25 years of service to RF in Public Works Department.

Timothy McAdam
For 2010 Eagle Scout Project - Veteran's Memorial.

Joseph O'Connor
For 2 years of service as RF Service Club President.
For Service in the US Merchant Marine.


WANTED !!              WANTED !!
Information on any River Forest residents who:
    • are on active military duty for our country, or
    • are a veteran of our country's armed forces.

Contact a member of the Service Club to have them honored by our community in future Memorial Day ceremonies.
---